Elisabeth: Hello, Jennifer, and thank you for joining me at Romance at Random. It is a huge treat to have you with me today, especially since I LOVE the Marriage to a Billionaire series that is now sweeping the nation. I know the Marriage Merger is coming out in July, but you have a brand new foodie romance in digital format coming March 4th, right?
Jennifer: Yes, I'm really excited. It's called All the Way and pits a restaurant owner against a food critic so there's lots of yummy stuff to read about. Revenge, redemption, sex, angst, humor, and of course, tons of food!
BTW, just loving your Star Harbor series and those yummy heroes. Counting down the days to the next installment . When is it finally out?
Elisabeth: Thanks! First, let me say that I am really looking forward to your next book! Though my obsession for MTAB runs deep, All the Way sounds super spicy! You pretty much had me at the title!
My next Star Harbor book, Long Simmering Spring is coming out on May 13, and features a deliciously tortured ex-military hero. He's a man with a past, and it takes a very special woman to draw him out, and to show him how to live in the present. And speaking of food, I have it on good authority that a lemon cake will make an appearance in the book!
Jennifer: And you're going to make me wait till MAY for this? Sigh. Ok, I know it will be so worth the wait – you write such amazing contemporary romance. And those heroes? Swoon worthy…
So, Miss Elisabeth, I hear you are an active mom like me, AND you love to incorporate food in your romance novels too. Coming from a big Italian family where Sundays revolved around hours at the table, with a minimum of six courses, I learned to appreciate good home-cooked food early in life. Tell me why you love to also write about food in your books?
Elisabeth: I'm a total foodie, and l appreciate everything about the way a meal is constructed,–where the food is from, the preparation, the presentation, and of course, the most important part–the taste! It took a long time for me to begin to enjoy more exotic foods and to educate my palate In fact, growing up, I was a really picky eater . My mom had taken a number of courses in French cookery, and all I wanted was a plain chicken breast, plain vegetables, plain rice. My poor mom was forced to scrap all her fancy dishes and sauces and just serve the most bland, boring food possible. (Sorry, mom!) It wasn't until I got older that I started to love foods of every kind. Now, I subscribe to four foodie magazines and just devour the recipes. Unfortunately, I can't make everything I want, because there's no way my kids would eat most of it.
Jennifer: I am feeling so sorry for your mom right now! Ah, and the children. I guess you tortured your mom like my children torture me! I have two young boys, and imagine my surprise when I assumed they'd eat whatever I cooked for dinner? Umm, NOT. They drove me crazy with their pickiness and refusal to try food mashed together, anything green or orange, and anything liquid, like sauces or condiments. In fact, I've had some crazy experiments in my drive to get them to actually eat a green vegetable, or something not fried, or not chocolate. One of my most famous stories in my household was my dive into trying to be a Sneaky Chef. If anyone doesn't know what that is, let me explain.
You take an entire day. Yes, an entire day. You buy tons of vegetables, clean them, cut them, and puree each of them into a liquid type sauce. You bag them, label them clearly, and begin making various recipes incorporating things such as sweet potatoes, cauliflower, broccoli and spinach. Your children are not supposed to realize they are eating these healthy ingredients because they are cleverly masked. At least that is what other moms have told me, along with the rave reviews from hundreds of readers who took up this task.
Now, let me preface this story by saying I'm not a big fan of cooking. My family would probably disown me. I like to cook healthy, but keep meals simple and chaos free, since I learned if I spend hours in the kitchen my kids don't eat it anyway, and then I get cranky, and my husband gets the brunt. But I wanted to do this so I put aside a Sunday and prepared my meal agenda for the week.
First up: Chicken nuggets! My kids' all time fave. I masked sweet potato puree into the coating and the damn thing took me forever. When I proudly placed the plates in front of them, my older one sniffed his chicken. Yes. Sniffed it. Picked up his head like a German shepherd scenting drugs. And said, "I don't like this."
"Why not?"
"It smells funny. This isn't chicken."
I held my temper and got him to take a bite. Which he promptly spit out and gives me the face. His brother watches carefully, drops his fork, and starts to cry. "I don't wanna eat that!"
The next few days pass in a blur of macaroni and cheese, pasta with meatballs, and pancakes. This, of course, contains squash, spinach, and cauliflower hidden in what I thought were unique ways. Each night, my boys would sniff out the veggies and refuse to eat. On the evenings I cooked normally, they ate with no problem. Somehow, my kids had discovered my game and refused to let me win.
I called defeat by the end of the week.
Thank goodness my hero and heroines have no problem with any type of food, so I think that's another reason I enjoy diving into unique dishes!
Elisabeth: That story is hilarious! The sneaky chef thing would never work in my house. I have one kid who won't eat anything, one kid who will eat everything, and one kid who's somewhere in the middle. As you might surmise, the kid who won't eat anything is really skinny, and his dad and I are always trying to entice him to eat more.
Problem is, protein is what helps pack meat on skinny bones, and my guy won't eat any sort of protein if it "feels weird" in his mouth, or even if it "looks weird" on the plate. I've done everything you can possibly think of to get him to eat, including:
(a) making him different meals from his siblings
(b) feeding him by hand
(c) making up songs where the chorus requires him to pop food in his mouth
Still, nightly conversations usually go something like this:
"Hon, please eat the rest of your chicken."
"Why did you give me seven pieces? That's too much."
"They are tiny, tiny pieces. Besides, you told me you love this chicken. "
"There's skin on this piece. I don't want to eat it." (NB: all chicken that comes into my house is skinless)
"It's not skin, it's just a bit of sauce."
"It's brown. I don't like it."
"Fine. Don't eat that part, but eat the rest of it."
"I'm taking the brown parts off all the chicken."
"All right."
And then I go check on his plate and every one of those seven tiny pieces of chicken has been stripped of its "skin" which is now sitting in a pile on the side of the plate.
"Can I please have dessert now, mom? I ate my chicken."
So yes, it is a total pleasure to be able to write about people who will eat anything!
Jennifer: Ah, I think we are both soul sisters in life and in writing! I have stooped to the lowest level possible. I now bargain with my oldest that if he eats a certain number of pieces, he can have more dessert. If he has his eye on two things, I make him eat double the amount so in some type of weird way, I don't feel guilty. Who am I kidding? I'm a mom. I always feel guilty!
Thanks for sharing – I must admit I feel a lot better now!
No wonder we write about hunky heroes who cook and endless amounts of food!
Elisabeth: Why do all those parenting books tell you not to bargain with dessert? It's the only thing that works!! And as for feeling parental guilt, welcome to my life!
Jennifer, thanks again for joining me! It's been such a pleasure to have you here. Just knowing I'm not alone in the kid-food war makes me feel better.
Jennifer: The pleasure was all mine! I love talking kids and food and romance novels and always adore hanging out with you!

Elisabeth: You are awesome.

If we haven't entertained you enough, we have more in store! I'm giving away a copy of Blaze of Winter and Jennifer is giving away one copy of All the Way. To win, just leave a comment letting us know your best kid food story. Two random winners will be chosen –Winners Announced below!
Find out more about Jennifer at www.jenniferprobst.com | Twitter | Facebook | Buy Jennifer's books here

Find out more about Elisabeth at www.elisabethbarrett.com | Twitter | Facebook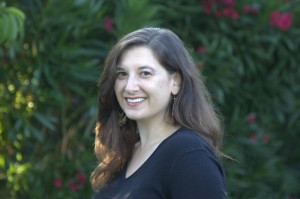 Buy Elisabeth's Books here – just click on the images below: