Romance At Random is thrilled to have NYT Bestselling author, Kat Martin visiting us today. Explore various geographic locations with Kat that will not only offer you high doses of vitamin D but quite possibly a little romantic heat. Kat is giving away one copy of AGAINST THE SUN to a randomly chosen commenter so comment away – winner announced this week in the post – good luck!


By Kat Martin

Since my latest book, AGAINST THE SUN, big Jake Cantrell and Sage Dumont's story, deals with a visit to Texas by a Saudi Arabian sheik and his family, I thought it might be fun to talk about favorite places in the sun.
With temperatures that reach higher than 120 degrees, Saudi Arabia would definitely not be one of them!
Personally, I hate hot weather. Among my personal favorite places, would be the ski slopes of Aspen on a sunny day, or up on the top of the hill at Mammoth Mountain in California. Yummy days of cold and sunshine and crystal clear blue skies.
We usually travel in the spring. A favorite sunny day happened to me in Rome in April a few years ago, when we stood in the warm rays next to the beautiful Trevi Fountain. And of course you can't beat walking in the sun on the Left Bank in Paris.
Closer to home, Montana has some great sunny days. Today I'm working in my office, looking at the lush green pastures outside my windows toward the snow-capped mountains in the distance. Big sky country is a major winner when the sun is shining and the clear blue sky seems to go on forever.
A day on the ocean off the coast of Santa Barbara is hard to beat when the sun is shining. Sailboat or powerboat, just being out on the water makes me feel completely carefree.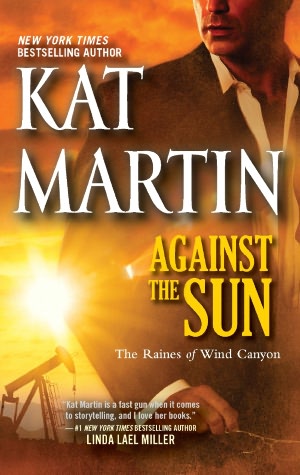 In AGAINST THE SUN, the sheik, his daughter A'lia and his son Roshan aren't bothered by the brutal Houston heat. And Sage is more concerned about learning the protocols she must know in order to negotiate the three hundred million dollar deal that will make or break her career. Customs like not showing the bottom of her foot, which is considered an insult, or making the okay sign, which would be giving them the evil eye.
AGAINST THE SUN was one of the most difficult books I've ever tackled because of the research involved in getting the customs, the clothing, the attitudes of the Saudi visitors correct. I hope you'll try AGAINST THE SUN and that you enjoy it.


I'd love to hear some of your favorite places in the sun and why you love them?? Warm wishes for a great summer, Kat. Just a reminder that every week on Romance at Random we randomly giveaway 5 books to commenters, winners noted on Sunday – good luck!

About Kat:
Currently living in Missoula, Montana, Kat is the New York Times bestselling author of over fifty Historical and Contemporary Romance Suspense novels. Before she started writing in 1985, Kat was a real estate broker. During that time, she met her husband, Larry Jay Martin, author of more than twenty books, both westerns and mysteries. Kat is a graduate of the University of California at Santa Barbara, where she majored in Anthropology and also studied History.
Visit Kat at her Website | Facebook | Join her mail list

AGAINST THE SUN - buy here And congratulations to Kat on her RT Top Pick!! Don't miss this series – Happy Romance!


Links to chapter excerpts from Kat – enjoy!
Excerpt #1 http://www.katbooks.com/AgainsttheSunExcertp1.htm
Excerpt #2 http://www.katbooks.com/AgainstheSunExcerpt2.htm
Excerpt #3 http://www.katbooks.com/AgainstheSunExcerpt3.htm
Excerpt #4 http://www.katbooks.com/AgainstheSunExcerpt4.htm
Excerpt #5 http://www.katbooks.com/AgainstheSunExcerpt5.htm