We got her, Carly Phillips that is and she's sharing the scoop about her new release Perfect Fit - find out more below – enjoy!
R@R: This is the 4th book in a series, right?

Carly Phillips: So happy to be here again. Thanks for asking me! Technically PERFECT FIT is the 4th book in the Serendipity series excluding two e-novellas, (Karma and Fated). And technically it is also book 1 of a spinoff of the first three Barron brothers Serendipity series books, and we call this series within a series, Serendipity's Finest because these three books are about the cops of Serendipity, the Marsden Family specifically. Readers "met" Sam Marsden in Karma. They also "met" Cara Hartley, my current Heroine, in Karma too. However, PERFECT FIT is a stand alone in that a new to me reader can pick up the book and feel like they are completely caught up – and then if they like the town, go back and read the other books in the series. They can then move on to the rest of the Marsden siblings as the books come out.
R@R: Give us all the details about your hero. What makes him to-die-for?

Carly Phillips: Oh, Mike. I've said it before, and my other heroes may hate me for it, but I think he may be my favorite.
Why? For one thing, he doesn't know he's truly lovable. He comes from what, in his mind, is a perfect family – his real mother and the man who married his mother when she was pregnant with him, when his biological father wouldn't step up. His adoptive father raised him as if he were his own, but didn't hide the truth about his biological dad. Despite the love, Mike feels like the odd man out, like he never measured up to his dad or his siblings. He's afraid he's more like his biological father than the man who raised him. He couldn't be more wrong, and (almost) everything he says or does, shows US that, but he doesn't get it. Not until he can finally see himself through Cara's eyes. He's protective, caring, loving, even as he insists he isn't. I adore his alpha-ness too.
R@R: What about your heroine, did you use any of your own experiences when writing her scenes?
Carly Phillips: No. I had a very normal childhood by Cara's standards. She comes from an abusive home, a mother who stayed despite Cara, a police officer, begging her to leave. It's very dysfunctional and not within my realm. However, Mike's father's illness? That mirrored my dad's bout with cancer. I lost him almost three months ago
Very difficult.
R@R: Your book is contemporary which seems to be so popular with readers now – what is something in your book that will really resonate with readers today?

Carly Phillips: I think contemporaries always resonate with readers, and I'm always thrilled when they're back in Vogue so to speak. The small town setting lets you feel you're been there before. Most everyone, whether you're from a small town or larger city, you can relate to a nosy neighbor, aunt or relative, family love and family dysfunction, it just seems to work. Then there's the thought that you can turn around within the familiar and find that special person and live your happily ever after. It's what makes contemporary romance click.
R@R: What's been the most surprising thing about being a published author so far? Is it like you imagined?

Carly Phillips: Everything about being published has been a surprise, including the fact that it's now been almost 15 years since my first published book! Crazy. The ups and downs, the thrill of having a book out never fades, at least not for me. I'm not sure what I imagined except I always had the naive feeling it would be the answer to all my prayers – and in so many ways it has – I get to do what I love and share it with the world! But it sure doesn't change the reality of life or daily living – and that has really been brought home to me this past year.

R@R: Finally, tell us what you have coming next.

Carly Phillips: Next up is a July 2013 anthology called HOT SUMMER NIGHTS, with amazing authors, Jaci Burton, Erin McCarthy and Jessica Clare. Mine's a Serendipity novella, Dr. Alexa Collins' story, called Perfect Stranger. Then in August is PERFECT FLING, the story of Erin Marsden and her hero, Cole Sanders, which I'm finishing working on now. There's an excerpt in the back of Perfect Fit for this story, so I can say it's another one night stand, this one with far reaching consequences! Then I write Perfect Together, Sam's story, out February 2014. After that, we'll see! I'm as curious as you
For all updates on all things about Carly, readers can find her on the Internet:
Website | Blog | Twitter | Pinterest |Facebook |Goodreads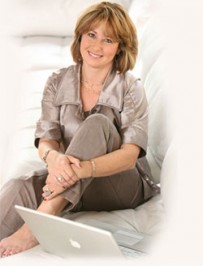 Readers, now it's your turn. What do you love about contemporary romances? One reader who comments will be randomly chosen to win a copy of one of Carly's first three Serendipity series books, Serendipity, Destiny or Karma. (US only please) WINNER chosen below – thanks for blogging with us!