Those intense, hypnotic eyes held hers. Her heart kicked up a few beats, stealing her breath away. As he started to dip his head, Shay stood there, frozen. What now…

His mouth, so warm, brushed against hers. She gasped and then almost wished she hadn't as he used that opportunity to tease the inside of her lips with his tongue, moving deeper and deeper. His hands came around her waist, tugging her closer.
This is a bad idea…
The warning was already screaming in her head. She couldn't give him what he needed. And he couldn't accept what she had to give. They would just hurt each other again—
Tearing her mouth away, Shay ducked to the side. "We…we can't do this." She pressed a hand to her buzzing lips. "I'm just getting to the point where I'm used to going through the days without you calling. I'm just getting to where I can pass a few nights without dreaming about you." Liar.
Well, she did manage to go a few nights, she told herself. Usually, on those nights, she had nightmares, but so what? She wasn't dreaming of Elliot, and that was all that counted, right?
"Shay…" He reached up and touched her shoulder.
But she didn't want to hear what he had to say. She wasn't going through this again. She wasn't whole inside and she had to accept that and stop pretending otherwise, and it hurt.
Stooping down, she grabbed the basket of books from where he'd placed them on the floor. Without looking back at him, she headed for the front of the store, crashing into a book dump just next to her. She flung out a hand, but there was nothing to grab. Books from the display went flying and just before she would have crashed to the floor, a pair of strong, steady hands gripped her waist. "I've got you," Elliot murmured.
I've got you…
Swallowing, she closed her eyes and reached for some level of control.
Stumbling all over the place.
Running away from Elliot.
She needed to get herself together.
Sucking in a desperate draught of air, she blew it back out. Carefully, she eased away from Elliot, checking her legs. Okay, she could walk. This was good.
Grimacing at the book dump she'd knocked over, she opened her mouth to apologize. The display had been holding a lot of books, she thought inanely. Foil lettering on one of them caught her eyes.
Familiar lettering the shade of blood.
Familiar…
She looked down at the book in her hands—a book with a gold foil sticker on the top right corner that read, Signed by the author!
Touching that sticker, she swallowed.
No.
This…this wasn't happening.
There was no way the author signed books here.
Ever.
So… there ya go. A snippet from STOLEN, my upcoming romantic suspense. Wondering what's going on? Well, I can't tell you. You'd have to read it.
What I can tell you…it's twisted. It's probably one of my more twisted books. It's dark. Probably one of my creepier books. And the heroine, Shay, is probably one of the most messed-up heroines I've written in a long time.
Her hero, Elliot? Well, he used to be in the Army. Now he owns a bookstore. Solid, stand-up, sexy as hell…I'm afraid I don't have a Navy Seal or an Army Ranger for you, though.
Yes, he was in the Army, but he didn't stay long. He'd planned on it, but life kicked him in the butt and messed up all his nice, ordered plans.
Now Elliot runs a bookstore in Earth's End, Alaska with his sister and he tries to pretend he's not still in love with Shay Morgan.
That's not going over very well for him, especially when he sees her in his store again. But Shay has all these crazy secrets and she won't open up for him, and it's hard to be with a woman who just won't trust you…or can't.
You see, Shay's been in hiding for a very, very long time and she has her reasons. She's hiding from a monster, hiding from her past, hiding from secrets and pain that just about destroyed her.
But that past is about to come out and bite her.
All the walls she built around herself start toppling down and the only person she trusts is Elliot.
The question is…will trust be enough to make it work this time?
If you're in the mood for a spooky, sexy thriller, I hope you'll give STOLEN a look…! 5 randomly chosen commenters will be chosen to win a free book – comment below to win!WINNERS HAVE BEEN CONTACTED & ARE ANNOUNCED BELOW – check the comments to see if you're one – congrats!

Author Bio:
Shiloh Walker is the bestselling author of If You Hear Her, If You See Her, If You Know Her, Chains, Fragile, and The Missing. She loves reading and writing anything fantasy and nearly every kind of romance. Once upon a time she worked as a nurse, but now she writes full-time and lives with her family in the Midwest.
Follow Shiloh on her Website | Facebook | Twitter

Buy her book here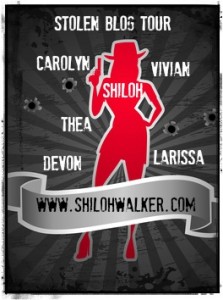 Look for me at… no, wait, don't look for me, I'm in hiding!
But these ladies might have prizes!
10/22 The Book Pushers
10/24 The Book Tart
10/26 The Book Vixen
10/29 Fiction Fixen
10/31 Smexy Books
11/02 The Book Binge