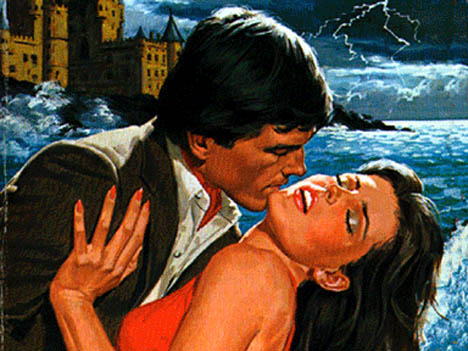 Growing up, my mother always read. It used to bother me, I didn't understand what kept her so entrapped with these novels that had gross looking guys on them. She would tell me that it was the love story that she loved. I could identify with that because I was and still am the biggest hopeless romantic.


I love being in love, I love reading about love and I love to love.


I always knew I was going to find my prince and we were going to live happily ever after and I did, and we are, and the best part is that this princess gets to write
happily ever afters
and share them with the world.
As I got older, I was still young and stupid, only cared about boys and not about reading or anything like that. It wasn't until I was in my twenties with a baby on my hip that I actually started to read for fun. I remember the first book I picked up and read . . . Twilight by Stephanie Myers. And the main reason I did was because everyone else at work was reading it, so I thought I would too. What I didn't expect was to completely fall for the series and soon I was begging my husband to throw glitter on himself. He declined of course, but Twilight had me reading anything about vampires and soon I was reading the Vampire Academy series, and then the Stackhouse series. I was on fire, but soon got burnt out by the Vampire romance, no pun intended :).
I told my mom that I was reading these books and she then introduced me to Susan Elizabeth Phillips. My mom has the best taste in books, she reads constantly, and I can honestly say, she is my biggest fan. Because I trust what my mom says, I soon read everything that SEP wrote and I'm not kidding when I say I loved almost everything and soon fell for contemporary romance. I think in the first year of reading, I read over 300 books. I loved it, loved the feeling of being taken to a whole different world and being entrapped by characters that had my heart.

It was awesome.
Along the way I have found other authors I love and soon I fell into Sports romance. Holy hot athletes I was in love. I read everything, baseball, football, and even some soccer, the best was hockey of course. My fellow hockey writers are amazing and I am lucky to be a part of such a great genre.
Its funny how quick and fast I fell in love with the Romance world. We are so lucky to have such amazing authors that have us on the edge of our seats, clutching our Kindle as we cry for our heroes and cheer for our heroines.
It's a great world and I'm glad I'm a part of it.

So, how did you grow up with Romance?
Comment below and two winners will win some hockey swag from Toni's stash – US only – good luck!


About the author:
I am a wife, mother of two and a bulldog, and also a hopeless romantic.
I have been told I have anger issues, but I think it's cause of my intense love for hockey!
I am the biggest Shea Weber fan ever, and can be found during hockey season with my nose pressed against the Bridgestone Arena's glass, watching my Nashville Predators play!
When my nose isn't pressed against the glass, I enjoy going to my husband and son's hockey games, my daughter's dance competition, hanging with my best friends, taking pictures, scrapbooking, and reading the latest romance novel.
I have a slight Disney and Harry Potter obsession, I love things that sparkle, I love the color pink, I might have been a Disney Princess in a past life…probably Belle, and did I mention I love hockey?
Visit Toni on her website | Twitter | Facebook | Pinterest | Goodreads | Amazon

Coming soon . . .


Bloggers – Sign up for Toni's Hockey Hop Now – HOPPERS – mark your calendars, THE ASSASSINS HOCKEY HOP begins release day 4/23!!

About the book:
In Toni Aleo's exhilarating debut, the first in a series featuring the hockey hunks of the Nashville Assassins, a reformed bad boy helps a charming, willful woman face off against the demons of her past.
No matter how hard she tries, Elleanor Fisher never thinks she's good enough, from her job to her weight to her love life. After enduring years of abuse at the hands of an ex-boyfriend, Elli has been drifting through life in a daze. Until, that is, she meets Shea Adler on a promotional shoot for the NHL's Nashville Assassins. Before Elli knows what's happening, the gorgeous Shea breaks the ice and shatters her world.
A brilliant athlete inside the rink, Shea Adler is tired of the life he's living outside of it: the girls, the money, the drinking. But everything changes when he meets Elli. After laying eyes on this feisty, witty, beautiful woman, he feels like he's just taken the hardest hit of his life. No matter how skeptical she is, Shea knows they are meant to be together—if only he can convince Elli to put her insecurities aside throw her insecurities out the window before she misses out on a shot at love.
More about her books here