A fallen woman. A devastatingly hot vicar. A forbidden passion. As you might have guessed, A Notorious Countess Confesses was great fun for me to write. It's the 7th book in my Pennyoryal Green series (its official release date is October 30th) and early reader feedback has been gratifyingly wonderful—e.g. All About Romance made it a Desert Isle Keeper, and Reader to Reader said "it'll be hard to top A Notorious Countess Confesses." I'm thrilled, because Adam Sylvaine might be my favorite hero yet, and Evie Duggan, complex, mature, the perfect woman for him.
I'll begin with a little excerpt from Evie's first encounter with the vicar:

She swiveled her great head about and raised a hand to shade her eyes when she saw Adam Sylvaine walking away, posture like a soldier's, stride long and easy.
Silently, they both watched him.
They in fact watched long enough for it to become ridiculous.
He never once looked back.
"Now that one is a man," Henny pronounced finally. As though they'd been debating the topic.
Evie snorted. "The country air has curdled your brain." She tossed her head and strode toward the carriage. Henny followed on her heels, still huffing.
"Now ye listen to me. Ye think ye're worldly and grand now and that ye've known every sort of man there is to know. But if ye've too many flowers in your garden, they all start to smell the same, dinna they? Ye canna tell one from another. And I tell you, that one is better."
"Because he's a vicar? For heaven's sake, Henny," she said wearily, "he's … just a man." It was easier to use the word "just" to describe Adam Sylvaine when he wasn't standing near enough for her to count the colors in his hair. "Beneath their clothes, under the skin, they're all the same. It always becomes evident eventually."

Naturally, Evie Duggan, also known as the notorious Countess of Wareham, is about to learn just how wrong she is about Adam Sylvaine.
It's not as though she's entirely unmoved by the vicar. After all, she's not blind. She's noticed that "In his face, curves and angles seemed united for the purpose of breaking hearts: a jaw clean-edged as a blade, cheekbones that rose like battlements, between them the sort of hollows sported by poets, all deepened and defined by strategic shadow and light. It somehow contrived to be both sensitive and implacable."
But Eve is weary of all men: her meteoric rise From Covent Garden to Courtesan to countess ended with the untimely—and suspicious, according to ton gossip—demise of her husband, and hounded by gossip, saddled with a nickname she loathes, she retreats to the one legacy left to her, a manor house in Pennyroyal Green, hoping to start a new life. One that will not include men, for whom she has always been a commodity, less a person than an object of desire.
And Eve's maid is right: Adam isn't like any other man she's ever met. The demands of his job have stripped him down to his very essence—he understands what truly matters, and he has very little time or patience for, shall we say, B.S. Eve soon learns that she can't simply manipulate him with charm; he's not humorless, but her attempts to steer him with flirtation bore and irritate him, because he sees right through her. He gives her one choice: be real. And to be real is to be vulnerable, and to be vulnerable is to risk her heart, and when her real self shines through, Adam Sylvaine's heart is soon at risk, too.
It was a delicious pleasure and challenge to write a hero whose appeal, apart from those looks of his, is the fact that he's not a rake—he is, in fact, unequivocally good. But the goodness comes at a cost: he a man's needs, and the wild Eversea blood beats in his veins, and temptation assails him at every turn—after all, the devastatingly handsome unmarried vicar stars in the fantasies of women all over Sussex. Behavior considered ordinary and almost expected in his Eversea cousins—for example, scaling a trellis to climb in the window of a married countess, a la Colin Eversea—would destroy him. He knows the only way he can be of use to his parishioners, the only way they can respect and trust him fully, the only way he can maintain his position, is if his behavior is faultless—and so it is.
But even as he in essence belongs to everyone in the village, Adam is fundamentally deeply lonely. And though his control is formidable, Evie Duggan reminds him all too powerfully of the passions he keeps so tightly leashed. He understands the risk, but as they're drawn together again and again, their mutual admiration grows…and so does a desire that cannot be denied.
The danger to both of them is very real—succumbing would ruin them both.
This is a romance, after all, and you can make a few assumptions about whether or not they succumb, and just how explosive it is when they do.
I hope you'll read it to discover whether a forbidden love will lead them to Heaven…or make outcasts of them forever.

Are rakes your favorite heroes or can a good guy win your heart? Comment below, is Adam a hero for you? 2 winners will be randomly chosen for a free book – US onlyWINNER ANNOUNCED – Cathy P & Cate S – congrats ladies!!

About the Author: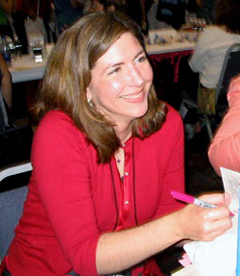 Julie Anne Long originally set out to be a rock star when she grew up, and she has the guitars and the questionable wardrobe stuffed in the back of her closet t prove it. When playing to indifferent crowds at midnight in dank clubs lost its, ahem, charm, she realized she could incorporate all of the best things about being in a band—namely, drama, passion and men with unruly hair—into novels, while at the same time indulging her love of history and research. So she made the move from guitar to keyboard (the computer variety) and embarked on a considerably more civilized, if not much more peaceful, career as a novelist.
Julie lives in the San Francisco Bay Area with a fat orange cat. (Little known fact: they issue you a cat the minute you become a romance novelist.)
Follow Julie on her Website | Facebook | Twitter
Buy her books here