One of my favorite romantic comedies of all time is the movie While You Were Sleeping. This movie has everything: A likeable heroine. A handsome hero. A cast of quirky characters.
And a secret.
That's right. It's a story that revolves around a secret. The heroine allows the hero's family to believe that she's engaged to their son, who just happens to be in a coma and therefore cannot refute the claim. She keeps this secret all the way to the end of the movie, where she almost marries the "coma guy", even though she has fallen in love with his younger brother. In the end the truth becomes a barrier that the lovers must surmount.
You'll find secrets all over romantic fiction. In Pride and Prejudice, Mr. Darcy keeps several gigantic secrets from Elizabeth Bennet. His failure to tell Elizabeth the pure, unadulterated truth about Mr. Wickham results in all kinds of mayhem for the Bennet family and unleashes a scandal that keep Lizzy and Darcy apart.
In my book, Home at Last Chance, my heroine, Sarah Murray, waits until the end of the book to let the NASCAR-driver hero know that it's her fault that he's driving a baby pink car and has to officiate at baby-changing races. My good ol' boy hero is mighty upset when he learns the truth about her, and it's only his willingness to forgive that gets them back together at the end of the book.
In these examples, the unveiling of a secret at the end of a book serves to drive the lovers apart. But the unveiling of a secret can also have the opposite effect. Sometimes a hero or heroine has a secret they've been carrying around for so long that it makes it hard for them to open up to love. This was true for my heroine in Welcome to Last Chance. And it's true in spades for the hero of my newest book, Last Chance Christmas.
Stone Rhodes is a widower who isn't ready to find another love. Not only did he adore his wife, but he also feels guilty about something that happened on the day she died – something he hasn't told a soul. That secret has festered, and he's going to have to share it with someone before he can love again. Enter my heroine, Lark Chaikin.
So do you have a favorite romantic story or movie that rests on a secret? Do tell.
One lucky commenter will win a copy of Last Chance Christmas. WINNER CHOSEN see below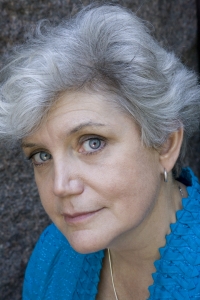 About the Author:
Hope Ramsay was born in New York and grew up on the North Shore of Long Island, but every summer Momma would pack her off under the care of Aunt Annie to go visiting with relatives in the midlands of South Carolina. Her extended family includes its share of colorful aunts and uncles, as well as cousins by the dozens, who provide the fodder for the characters you'll find in Last Chance, South Carolina. Hope earned a BA in Political Science from the University of Buffalo, and has had various jobs working as a Congressional aide, a lobbyist, a public relations consultant, and a meeting planner. She's a two-time finalist in the Golden Heart, and is married to a good ol' Georgia boy who resembles every single one of her heroes. She has two grown children and a couple of demanding lap cats. She lives in Fairfax, Virginia where you can often find her on the back deck, picking on her thirty-five-year-old Martin guitar.
Visit Hope at her Website | Facebook | Twitter | Goodreads | buy her book here