Debut Loveswept author, Elisabeth Barrett's new book, DEEP AUTUMN HEAT kicks off the beginning of the Star Harbor series — and these Grayson men are the real 'alpha' deal – on sale 7/9/2012.
I am thrilled to be here at Romance at Random, kicking off my blog tour for my debut novel, DEEP AUTUMN HEAT, which releases on July 9th!
And with this kickoff, I have a confession to make: I don't believe in love at first sight –that two people are destined to be soul mates from their first glimpse. Now before you start sending me emails saying that I'm nuts and that it happened to you and how dare I, let me hasten to say that I do believe in the spark, the interest, the desire, the thing that makes you want more when you first lay eyes on someone. But I also believe that real love takes time to blossom and to grow.
Here's what I do believe in: Love at first taste.
This might sound crazy, but I'll try to describe what I'm talking about. You take a bite of something – sweet, savory … it doesn't matter – and from the very instant it hits your taste buds, your brain is screaming, "more, more, more!" You need it. You want it. You crave it. You must have another bite. Right. Now.
That's what I mean by love at first taste.
For Sebastian Grayson, the celebrity chef at the center of my debut novel, Deep Autumn Heat, it's definitely love at first taste. Seb first mistakes Lexie – the chef-owner of the Lexie Meyers Kitchen –for one of her servers. She's a mere diversion … until he takes a bite of her delectable coconut cake. Once he discovers that she's the restaurant's pastry chef, too, she becomes much more interesting, and he does everything in his power to get closer to her. In their case, love at first taste blooms into true love. But of course, it takes a while – and a whole lot more tasting – to get there!
To whet your appetite for Deep Autumn Heat (which releases on July 9), here's the scene when Seb figures out that Lexie's the one who's baked that scrumptious confection:

After picking up the waiting food, Lexie placed the steaming plates in front of Seb's brothers. He was still eating the cake, one agonizingly slow bite at a time, his eyes closed in pleasure.

She needed to get this man out of her restaurant. Fast.
She prepared their check and brought it over to their table as soon as they were finished eating. "You gentlemen can pay when you're ready," she said, sliding it across the table toward Cole. Despite herself, she snuck a look at Seb, only to realize that he was staring at her. She felt her skin grow hot beneath his gaze.

"I'm sorry we got off on the wrong foot. I just thought you were…" he paused deliberately, "someone else." Then, he gave her a dangerous smile, small brackets forming around that delicious mouth.

Before she could stop herself, she smiled at him in return. Then her face froze as she realized what she was doing. Caught off guard, she began to stammer. "Ah, n-no worries. We're good," she managed to get out.

"I'm glad to hear it," he said. Then he pointed to his empty plate. "This coconut cake is amazing."

"Thank you," Lexie responded automatically, relieved to move on to a safer topic.

"Do I taste almond extract in here? Is that what gives the flavor that extra depth?"

The corner of her lip curled up. "It's a secret," she said.
"Is your pastry chef here? Can we talk?"

"Oh, she's here. But I don't think she'll tell you," Lexie paused. "In fact, I'm positive she won't."

"Well, I'd like to talk to her all the same," Seb pressed.

"You are."

Sebastian gave a start, and then he laughed, a deep, low rumble. "Lady, you are full of surprises." He smiled sexily at her. "And I like surprises."


Thanks so much to Romance @ Random for helping me kick off my blog tour! My tour schedule is here if you'd like to follow me around!
About Deep Autumn Heat
In this sexy new Star Harbor romance series, featuring the too-tempting Grayson brothers, a celebrity chef turns up the heat for a local café owner—and things start to sizzle.
Lexie Meyers decides there's nothing sweeter than watching Sebastian Grayson's perfect, wicked mouth devour her coconut cake. He's hot, he's hungry, and he's sizing her up like she's the best thing on the menu. But she's been burned in the past and flings just aren't her thing. Too bad Sebastian can't resist a challenge.
Worldly, famous, and notorious with the ladies, Seb had planned a weekend of fishing and relaxation with his brothers. Until Lexie, with her kissable lips and frosty "get lost" attitude, makes him want to forget his culinary empire and create some magic with her. After he fires up his charm—including challenging her to a televised cook-off to break through her resistance—it's now hotter in the bedroom than it is in the kitchen and Lexie isn't sure whether she's lost her mind . . . or just her heart.


Pre-Order Here

How about a giveaway?!
One lucky reader who comments below will win a NetGalley preview of Deep Autumn Heat. Contest ends July 8th at midnight (EST).You'll need a NetGalley account, and to answer the question below:
What food have you eaten where it was love at first taste?

About the Author
Elisabeth Barrett is thrilled to make her debut with Loveswept on July 9 with the release of DEEP AUTUMN HEAT, the first book in her Star Harbor series, featuring the too-tempting Grayson brothers. Elisabeth lives in Northern California with her husband and three children. She definitely believes in love at first taste.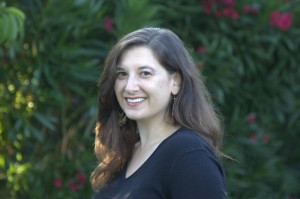 Connect with Elisabeth: Website | Blog | Facebook | Twitter | Goodreads