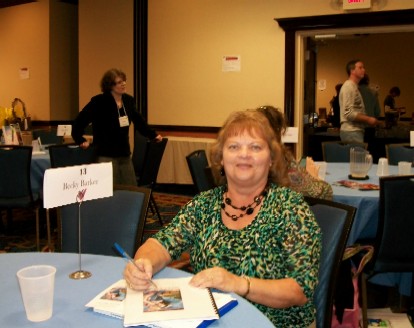 Hello from award-winning author Becky Barker

Hello!
I'm a contemporary western romance writer. That's not to say I don't enjoy the history of the old west or historical fiction, but my heart and mind are firmly ensconced in the here and now. I try to back up what I've learned over the years with research to give my books as much authenticity as possible.
My fascination with everything western started at an early age and revolved around my love of horses. I live in rural Ohio, so not exactly the wild west, but horses are pretty common here. My uncle was a Farrier; someone who fashions steel shoes for horses' hooves. He and my cousin also roped calves in the rodeo circuit which added fodder to my active imagination.
As a very young (grade school) tomboy, dreamer, budding author, I spent a lot of time sitting in my favorite tree and creating my own imaginary world. That world always included a beautiful stallion. A few years later, I discovered romance novels. The combination of loves eventually lead me to writing western romances. Since those early days, I've learned a lot more about ranching and life in the American west. Though I've never lived on a working ranch, I've managed to combine what I know with what I can research. Thankfully, my efforts have always been well-received by fans of contemporary western romance.
My latest release is titled BRIDLETON, it's set on a Dallas-style ranch and revolves around the Bartell family. The heroine, Andrea Bartell, is an international fashion model who's called home to Texas due to a financial emergency. The hero, Noah Courtland, is the ranch manager who's desperately trying to save the ranch from bankruptcy. The story is about a lovers' reunion, their devotion to family and a desire to protect the home they love.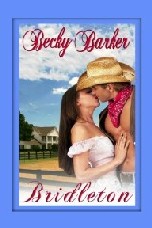 And, lets face it, the most memorable romances revolve around memorable characters. The cowboy remains an American icon. He's big, strong and protective. He might be stubborn and uncommunicative at times, but he's always loyal and dependable. When it comes to one special woman, he's passionate, demanding and possessive. His love is unconditional, and he expects the same from the woman he adores. Give him an honest, intelligent heroine who reciprocates those feelings and you have a perfect romance, IMO.
Don't you agree? Remember 5 commenters are chosen each week to win a free book – winners announced on Sundays – good luck!
Other western romances I've written include: CAPTURED BY A COWBOY, RENEGADE TEXAN, BACK IN HIS ARMS, SASSY LADY, A MATTER OF TRUST, HANCHART LAND, CHAMELEONS. For readers who enjoy some suspense with their westerns, I've also written ON WINGS OF LOVE and CADE'S CHALLENGE, books that feature the Langden brothers, Trey and Cade. For more details about my work or to enter my monthly readers' contest, please visit my website at: BeckyBarker.com I also love visitors on my Facebook page:
http://tinyurl.com/RomanceAuthorBeckyBarker
Hugs, Becky
Bridleton- Available at:
http:/tinyurl.com/Bridleton
http://www.BeckyBarker.com