Perfect Timing!


Have you ever tried to read a book and just can't get into it? It doesn't catch you, you read several pages but you can't even recall what you've just read? Do you put the book down? Do you force yourself to read it? Even worse, what happens if it's your favorite author??? I'll admit this has happened to me a time or two. But later when I finally pick up the book again, I discover it wasn't the author, the book or anything else that influenced it. Most times I even ended up absolutely LOVING the book! It was all in the timing. Perfect timing.
Linda Howard is one of my favorite authors, she's an absolute auto buy, even in hardcover. I haven't ever disliked one of her books. Though I will admit to having favorites… Dream Man…Yum. But when I cracked open the first pages of All the Queen's Men, the pages blurred, I couldn't remember what I had read and the plot seemed…well, dull …ugh! Not my Linda Howard, she's a perfect writer!!! She could never be considered dull!! Rather than force myself to read the book I put it back on the shelf where it stayed for nearly a year…
As I was getting ready for a conference and contemplating how I was going to pass time on a six hour train ride, I came across All the Queen's Men again and thought to myself – I'll give it a shot! Determined not to be defeated by a book I boarded the train looking for the perfect seat only to discover there weren't many seats available. Two to be exact. One next to a very angry looking passenger and the other next to a young man about my age. Ah yes, I read romances, I noticed him right off! I asked him if the seat was taken and proceeded to sit down. We had a bit of polite small talk and then he opened his book and I opened mine. All the Queen's Men, spies, espionage, CIA, covert ops and suspense ensue…
About two hours into the trip Mr. Young & Cute gets up from his seat, tells me he's getting a sandwich and asks if there's anything I would like. By this point I'm already crushing on him….but I politely decline. When he comes back we start up more small talk. This time he tells me his name is Sam Adams and he's headed to Washington DC to fly to Germany for training. Hmmm, is it because I'm reading about spies that I suddenly imagine he's already a spy? His name is Sam Adams, like the beer. After all why would he tell me his REAL name if he's a spy? And why take the train all the way from Wisconsin to Washington DC only to fly to Germany? Why not fly out of Chicago? I find him to be just a little too much like John Medina, the hero from Linda Howard's book, but so interesting that I'm hanging on his every word and trying to figure out if he truly is a spy…Well, maybe that's a little dramatic, but I still had the question of his name and the questions of why he would be travelling to Germany via DC…
By the time we arrived in Chicago I was more than a little infatuated with Mr. Nice Guy Spy. Being unfamiliar with the town, he offered to walk me to meet my cousin (he had a two hour layover before his next train left). He walked me the three blocks, carried my suitcase and waited with me until my cousin arrived…I thanked him and waved good-bye…
When I finally finished reading the book I couldn't help but wonder why I had found it dull in the first place! As it turned out, All the Queen's Men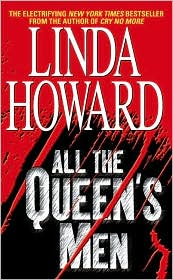 is one of my favorite books by Linda Howard. I've reread it several times, but I can't help but think the timing and the circumstances around reading it had just a little something to do with it….
Is there a right time for a book? A wrong time? Is there perfect timing for a book? Have you ever felt that reading a book at a certain time was meant to be? Have you ever gotten something different out of the book because of those circumstances?
5 commenters are chosen every week to win a FREE book – comment away! Good luck!