Fantastic sex weakened her resolve. That, or the sight of Nev wearing pin-striped trousers and nothing else while cooking her dinner was just way too good to pass up. When he chopped garlic and pepper and tomatoes into tiny pieces, the muscles of his forearms flexed, and her eyes were drawn to the small, sure movements of his fingers and hands on the knife. It was terribly sexy.

—Probably Ruthie's favorite moment in About Last Night, a.k.a. the part where Nev cooks vegetables half-naked
Ahh, Nev. Can we all just take a moment? Because there's something about that image — the stodgy British banker half un-stodged, pinstripes on the bottom, bare feet, bare chest, and ohmygodhe'scooking … I'm just not over it. I wrote it, and I'm not over it.
I'll admit it. I'm in lust with my own character.
There's something about a man who cooks, isn't there? Such a sexy sight, for so many reasons. Let's count them!
(1) If he's cooking, I'm not.
(2) He's creating nutritious food for me. It's like he wants me to live or something. He must love me!
(3) And yeah, there's a caveman protector thing going there, too. Man who cooks –> man who is providing for his woman –> *drooling*
(4) Forearms. Forearm muscles. Forearm muscles flexing.
(5) Man-fingers handling knives. In a manful way.
(6) Did I mention the part where I'm not cooking?
I just can't get enough of those cooking men! My current work-in-progress has a hero who used to be a chef. Here's the heroine, getting all swoony as she remembers when he made her breakfast (brioche French toast with sauteed apples and cream whipped by hand–*dies*)—
Waiting in line at the airport, she'd been thinking about the way he'd looked, whipping cream for her in a bowl. The flex of corded muscle in his working forearm, and the way the other arm cradled the bowl against his stomach. The dark hair in the V-neckline of his gray T-shirt.
His name is Ben, by the way. And no, you can't have him. I'm hoarding him until February 2014.
But, so as you won't feel left out, I'm inviting me to tell me all about your secret sexy chef fixations in the comments. Did you have a crush on the Frugal Gourmet? Emeril? It's okay. It's totally natural. You can spill it here, and nobody will judge. Much.
Really. I can't be the only one who glazes over at a man with a butcher knife in his hand.
Confess all your man-chef-loving secrets, and I'll pick one random commenter to win a copy of one of Louisa Edwards's chef books. Because … yes. That's a nice-looking dish towel he's got there.
Do you suppose he washes or dries?
—
P.S. Leave your e-mail in the body of the comment if you want to be notified upon winning! Or else check back on Friday, Dec. 7, when I'll announce the winner in the comments. Comments close to entry at midnight CST on Thursday, Dec. 6.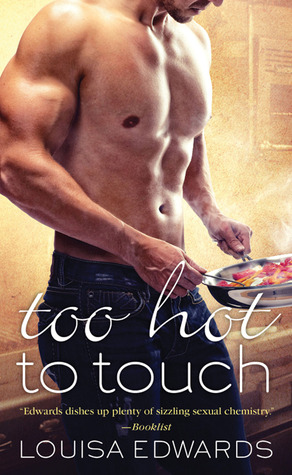 About the Author:
Ruthie Knox graduated from Grinnell College as an English and history double major, and went on to earn a Ph.D. in modern British history that she's put to remarkably little use. An earlier incarnation of Ride with Me won the 2011 Maggies Award for best contemporary series romance, as well as the 2011 Romance Junkies/Carina Press contest.
You can find Ruthie on her Website | Twitter | Facebook | Goodreads | & of course, here with us on R@R
Ruthie is a published author of RIDE WITH ME | ABOUT LAST NIGHT | and soon to be released, ROOM AT THE INN | ALONG CAME TROUBLE

Buy her books here